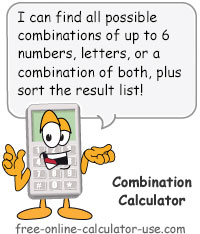 Combination Calculator
This combination generator will quickly find and list all possible combinations of up to 7 letters or numbers, or a combination of letters and numbers. Plus, you can even choose to have the result set sorted in ascending or descending order.
Learn More
Selected Data Record:
A Data Record is a set of calculator entries that are stored in your web browser's Local Storage. If a Data Record is currently selected in the "Data" tab, this line will list the name you gave to that data record. If no data record is selected, or you have no entries stored for this calculator, the line will display "None".
Data

Data record

Data record

Selected data record

:

None