Credit Card Interest Calculator for Multiple Rate Balances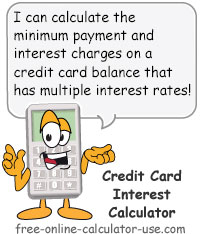 This calculator will calculate the current interest charges for a card balance containing up to 3 different APRs.
The calculator is an alternate version of the finance charge calculator that highlights the unethical payment allocation method often used by credit card companies.
Instead of entering a fixed payment amount, this version allows you to enter the actual minimum payment percentage and smallest minimum payment dollar amount as stated on your monthly statement. The calculator then determines the minimum payment amount for you.
Additionally, instead of just showing a 60-month payment allocation comparison, this version shows the comparison until both allocation methods have paid off the balance.
Read more ...