Credit Card Payoff Calculator to Calculate Payment Needed to Achieve Goal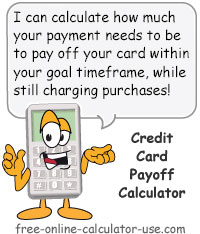 Are you tired of paying on a credit card forever, while the balance never seems to go down?
If you are ready to mount an all-out attack on that nagging credit card bill, this calculator will help you to formulate a plan to get rid of it once and for all.
Depending on your entries, the calculator will tell you:
How many months it will take to pay off your balance at a given payment amount.
Or, tell you how much the payment needs to be to pay off the balance within a given number of months.
In either case, the calculator will also tell you how much interest you will end up paying, plus provide you with a printer-friendly payment chart that you can print out.
Accommodates Future Charges
If you're like me, you charge certain reoccurring expenses to your credit card -- partly to earn the rewards, and partly to avoid potential overdraft charges from having these expenses come out of your checking or debit card account at an inopportune time.
Knowing that is the case for most people, the calculator includes these future monthly charges in your payoff plan -- plus tells you how much your payment will be if you stop charging to the card.
This means that if you leave the payment amount the same while removing the future monthly charges, you will also be able to tell how much sooner your balance will be paid off if you stop charging to the card.
Read more ...