Day of Year Calculator to Calculate Day Number and Days Left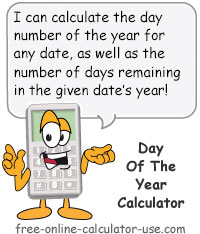 This free online day of the year calculator will determine how many days have passed in the entered year (including the date), plus calculate the total number of days in the entered year, the number of days left, and the percentage of the year left.
Just select the month and day, enter the 4-digit year, click the button, and voila!
Have a goal you would like to accomplish by the end of the year? This calculator will help you to break down the goal into day-size chunks (e.g., 1-hour per day for the rest of the year equals X number of hours).
If you find an interesting use for this calculator, please use the feedback form beneath the calculator to let me know, and I will add your suggestion to this page.
Read more ...