Debt Pay Off Calculator for Calculating Payoff Goal Payment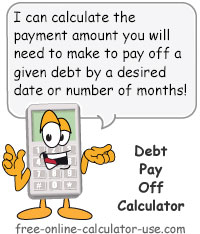 This calculator will calculate the monthly payment required to pay off a given debt within the length of time you specify.
You can either: select the month and year of your payoff goal, or you can enter the number of months.
Plus, the debt payoff calculations will also tell you how much interest you will save by shortening the term of the loan.
Finally, the results include a comparison chart, a text summary, and an interest-cost comparison bar graph.
A Penny Saved ...
If you shorten the length of time to pay off a debt, you will also reduce the total interest charges you end up paying to your lender.
And when you reduce the interest charges, you are essentially increasing your spendable income by the amount saved. So who would you rather see earn that extra income, you? Or your lender?
Read more ...