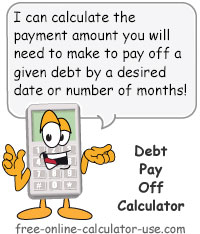 Debt Pay Off Calculator
This calculator will calculate the monthly payment amount required to pay off a given debt within the length of time you specify. You can either specify a goal payoff date, or a number of months. Plus, the calculator will also calculate how much interest you will save (earn!) by paying the debt off early. The results include a payoff comparison chart, a text summary, and a bar graph showing the interest cost difference.
Learn More
Selected Data Record:
A Data Record is a set of calculator entries that are stored in your web browser's Local Storage. If a Data Record is currently selected in the "Data" tab, this line will list the name you gave to that data record. If no data record is selected, or you have no entries stored for this calculator, the line will display "None".
Data

Data record

Data record

Selected data record

:

None