Debt to Income Ratio Calculator for Tracking Your Progress to Financial Freedom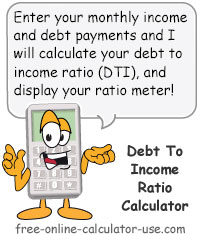 This calculator will help you to calculate the all-important vital sign of your financial well-being.
If you're serious about achieving the financial freedom to choose your work based on how much joy and fulfillment it brings you, then you must be continually aware of your debt to income ratio (DTI).
DTI is a financial snapshot often used by lenders to determine the probability that you will be able to repay the money you are looking to borrow. Most lenders require a DTI of 36% or less to qualify you for financing. However, DTI is also an easy and invaluable way to track your progress toward achieving financial freedom.
Simply add up all of your monthly debt payments and divide by your total monthly income. If the DTI is smaller than your last ratio, then you're likely moving closer to financial freedom. Larger means you are likely moving further away from it.
Be sure to visit this calculator at least once every two months to recalculate your DTI to make sure you keep moving in the direction of financial freedom.
Read more ...