Early Loan Payoff Calculator for Calculating Savings with Extra Payments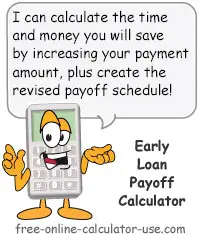 This early loan payoff calculator will help you to quickly calculate the time and interest savings (the "pay off") you will reap by adding extra payments to your existing monthly payment.
The calculator also includes an optional amortization schedule based on the new monthly payment amount, which also has a printer-friendly report that you can print out and use to track your loan balance.
Note that if you want to make weekly, one-time, or annual lump sum extra payments, please use the Extra Payment Mortgage Calculator, which also works for installment loans.
Read more ...