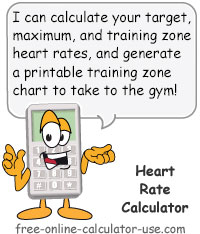 Heart Rate Calculator
This calculator is actually five heart rate calculators all rolled into one. Calculate your maximum (MHR), target (THR), and reserve (RHR) heart rates, plus calculate your resting heart rate health category and create a personal, printable heart rate training zone chart. The Notes tab includes:
How the calculator came to be.
Heart rate formulas.
How to check your heart rate, and a shortcut method.
Learn More
Selected Data Record:
A Data Record is a set of calculator entries that are stored in your web browser's Local Storage. If a Data Record is currently selected in the "Data" tab, this line will list the name you gave to that data record. If no data record is selected, or you have no entries stored for this calculator, the line will display "None".
Data

Data record

Data record

Selected data record

:

None