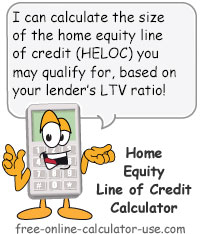 Home Equity Line Of Credit Calculator
This free to use online calculator will calculate the amount of the Home Equity Line of Credit you may qualify for based on the appraised value of your home, your current outstanding mortgages against the home, and the loan to value (LTV) the lender is willing to extend to you. The Learn tab includes:
What is a Home Equity Line of Credit?
HELOC vs Home Equity Loan.
The Perils of a HELOCs.
Learn More
Selected Data Record:
A Data Record is a set of calculator entries that are stored in your web browser's Local Storage. If a Data Record is currently selected in the "Data" tab, this line will list the name you gave to that data record. If no data record is selected, or you have no entries stored for this calculator, the line will display "None".
Data

Data record

Data record

Selected data record

:

None