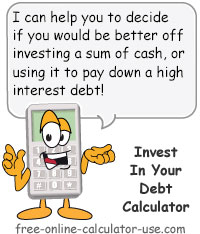 Invest In Your Debt Calculator
This calculator will calculate the returns on a traditional investment and then compare them with the guaranteed, tax-free returns you could earn if you used those funds to pay down high interest debt instead. The introduction includes the hidden reason we end up with high interest debt in the first place.
Learn More
Selected Data Record:
A Data Record is a set of calculator entries that are stored in your web browser's Local Storage. If a Data Record is currently selected in the "Data" tab, this line will list the name you gave to that data record. If no data record is selected, or you have no entries stored for this calculator, the line will display "None".
Data

Data record

Data record

Selected data record

:

None