IRA Savings Comparison Calculator: Tax Deferred Growth Vs Taxable Growth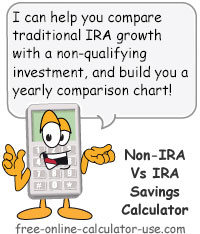 This calculator will forecast the growth of a Traditional IRA, and then compare the tax-deferred results to the growth of a non-qualifying investment.
When planning for your retirement, it's important to understand the difference between a tax-deferred investment and non-tax-deferred investment.
In the case of an Individual Retirement Account (IRA), not only are your contributions deductible from your taxable income in the year you made them, but the earnings also grow on a tax-deferred basis.
In the case of a non-tax-deferred investment, the contributions you make will be with after-tax dollars, and the earnings will increase your annual taxable income. This means that you are giving up the opportunity to earn interest on the funds that will be used to pay the taxes.
As this calculator will attempt to point out, the foregone interest on non-deferred taxes can be substantial over the long run.
Please keep in mind that the results of this calculator are merely estimates. Be sure to consult a qualified tax professional before making any investment decisions.
Also keep in mind that you might be better off first to pay off any high-interest debt you have, and then use the freed-up payment amounts to contribute to your retirement investment.
Read more ...