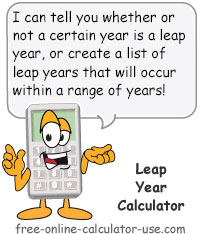 Leap Year Calculator
This calculator will instantly tell you whether or not a given Gregorian calendar year was (or will be) a leap year, or it will generate a list of leap years for a given range of years (includes the day of the week for each listed leap day). Plus, if you were born (a.k.a. "leapling") or married on February 29th, the calculator will even count the number of times you have been able to celebrate on your anniversary date. The page also displays the last and next leap years and the Learn tab includes answers to:
What is a leap year?
When is a leap year?
Why do we need leap years?
Learn More
Selected Data Record:
A Data Record is a set of calculator entries that are stored in your web browser's Local Storage. If a Data Record is currently selected in the "Data" tab, this line will list the name you gave to that data record. If no data record is selected, or you have no entries stored for this calculator, the line will display "None".
Data

Data record

Data record

Selected data record

:

None