Loan Affordability Calculator to Calculate How Much You Can Afford to Borrow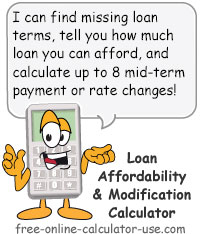 This calculator will calculate how much loan you can afford based on the amount of the installment payments you can afford to make.
Plus, if you are paying on an adjustable-rate loan, you can enter the original terms and then enter up to 8 rate changes that have occurred to get an idea of what your current payoff amount is.
Or, if you want to see how much time and interest you will save by increasing the payment amount or prepaying a lump sum of the principal, the calculator will give a side-by-side comparison of the original terms versus the modified terms.
Read more ...