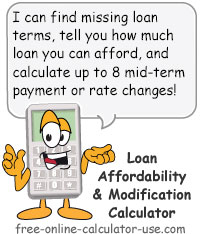 Loan Affordability Calculator
This calculator will calculate the size of the loan you can take out based on the size of the periodic payment you can afford to make. Simply enter the rate, number of payments, and payment amount you can afford, and the calculator will tell you the size of the loan (principal). Plus, if you are a private lender, the calculator also provides for up to 8 midterm rate and/or payment modifications to help you tailor the loan to your customer's current and future financial situation. Also includes a printer friendly amortization schedule.
Learn More
Selected Data Record:
A Data Record is a set of calculator entries that are stored in your web browser's Local Storage. If a Data Record is currently selected in the "Data" tab, this line will list the name you gave to that data record. If no data record is selected, or you have no entries stored for this calculator, the line will display "None".
Data

Data record

Data record

Selected data record

:

None