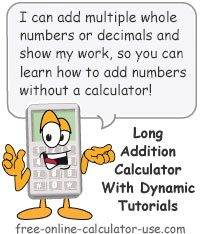 Long Addition Calculator
This adding calculator will find the sum of the entered whole numbers and/or decimals, and show its work.
The Learn section uses an example long addition to demonstrate, step-by-step, how to add multiple numbers without a calculator.
Learn More
Selected Data Record:
A Data Record is a set of calculator entries that are stored in your web browser's Local Storage. If a Data Record is currently selected in the "Data" tab, this line will list the name you gave to that data record. If no data record is selected, or you have no entries stored for this calculator, the line will display "None".
Data

Data record

Data record

Selected data record

:

None