Math Addition Facts Quiz: Timed Test for Learning 0-12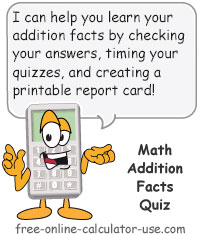 This timed test was created to assist my children with learning addition facts, and to give myself an easy way to track their progress.
The quiz not only times and grades the addition drills, but it also provides you with a printable report card for tracking and measuring progress made during each addition facts practice session.
The report card stores up to ten quiz sessions, complete with stats, a cumulative wrong-answers table, and a bar graph that combines the time it took to complete each quiz with the percentage of wrong answers.
After all, the measure of success in learning addition facts is not only in the ability to answer the additions correctly but also in the time it takes to come up with the correct answers.
Note to Parents (Teachers)
If you have a child (student) that is struggling with learning addition facts, then I suggest you have the child start with 2's and have them take 5-10 timed tests per day until they can consistently complete each test in less than 90 seconds -- with no wrong answers. At that point, they can then move on to 3's, and so on until they have memorized all math facts for the addends 0-12.
I also suggest you have your child (student) print out the report card for each addition facts practice session, which will help them and you to track their progress, and to provide you with proof that they are completing their "homework assignments."
Once the child has finished mastering math facts for addition, you can then guide them to the Multiplication Quiz for mastering math facts for multiplication.
Read more ...