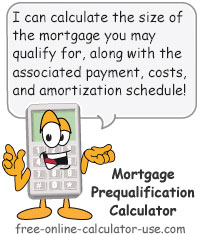 Mortgage Prequalification Calculator
This calculator will calculate whether or not you would qualify for a home loan, and if so, how much of a home loan you might be qualifying for. Includes a printer friendly report and a printable amortization schedule. The Learn tab includes brief explanations for:
PITI to income ratio.
Debt to income ratio.
A secret third ratio to consider.
Learn More
Selected Data Record:
A Data Record is a set of calculator entries that are stored in your web browser's Local Storage. If a Data Record is currently selected in the "Data" tab, this line will list the name you gave to that data record. If no data record is selected, or you have no entries stored for this calculator, the line will display "None".
Data

Data record

Data record

Selected data record

:

None