Interactive Multiplication Table Worksheet To Memorize Times Tables 1-12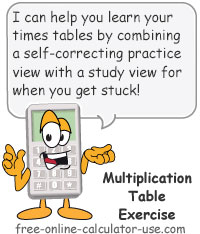 Use this interactive worksheet to memorize your times tables.
The Practice view tells you whether your answer is right or wrong, while the Study view allows you to learn from and correct your mistakes.
You can choose any size table up to 1-12, and choose whether you want to answer the multiplications in order, or on a random basis.
Finally, if you want to practice offline, the tool will allow you to create a printable blank multiplication worksheet, as well as a filled-in table for checking your answers.
Note that if you want to take a timed quiz for any of the math facts from 1-12, please visit the Math Facts Multiplication Quiz with a built-in report card.
Read more ...