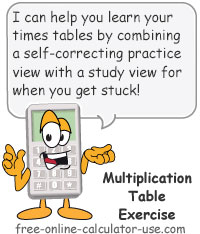 Multiplication Table Exercise
This interactive multiplication chart will help you to practice your times tables up to 12. It allows you to switch between a practice table and a study table for when you get stuck, and gives you the option for printing a blank table and an answer key for practicing offline.
Learn More
Selected Data Record:
A Data Record is a set of calculator entries that are stored in your web browser's Local Storage. If a Data Record is currently selected in the "Data" tab, this line will list the name you gave to that data record. If no data record is selected, or you have no entries stored for this calculator, the line will display "None".
Data

Data record

Data record

Selected data record

:

None