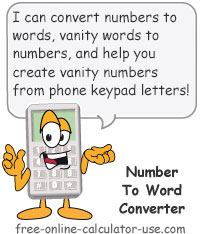 Number to Word Converter
This converter will convert a number into three separate word strings: Basic, Currency, and Check Writing. The converter also includes two bonus features. Bonus feature #1 translates vanity phone numbers to their phone keypad equivalent, and Bonus feature #2 creates a tool for seeing what if any vanity words can be spelled from an entered telephone number.
Learn More
Selected Data Record:
A Data Record is a set of calculator entries that are stored in your web browser's Local Storage. If a Data Record is currently selected in the "Data" tab, this line will list the name you gave to that data record. If no data record is selected, or you have no entries stored for this calculator, the line will display "None".
Data

Data record

Data record

Selected data record

:

None