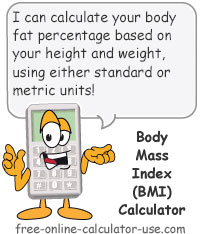 Body Mass Index (BMI) Calculator
This calculator will calculate your Body Mass Index, which is a quick estimate of your body fat based on your height and how much you weigh. You can enter your height and weight using either standard or metric measurements, and the calculator includes a built-in feet-inches to inches conversion calculator. The results include a BMI classification chart with your classification highlighted.
Learn More
Selected Data Record:
A Data Record is a set of calculator entries that are stored in your web browser's Local Storage. If a Data Record is currently selected in the "Data" tab, this line will list the name you gave to that data record. If no data record is selected, or you have no entries stored for this calculator, the line will display "None".
Data

Data record

Data record

Selected data record

:

None