Online BMI Calculator for Calculating Body Mass Index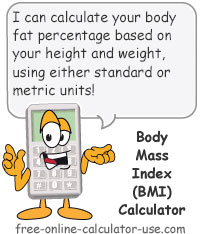 This online BMI calculator will help you to calculate your body mass index.
What is Body Mass Index?
Body mass index (BMI), which is based on height and weight, is a simple estimate of body fat that is a good indicator of your risk for certain diseases such as heart disease, high blood pressure, type 2 diabetes, gallstones, breathing problems, and certain cancers.
Body mass index calculations are often used to determine whether a person is overweight, obese, underweight, or normal (see the BMI body mass index chart in the calculated results). It is designed for males and females from age 18 to age 65 but does have its limitations.
Please also note that BMI tends to overestimate body fat for athletes and bodybuilders, and tends to understate body fat for older people who have lost muscle mass.
Read more ...