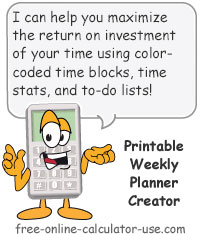 Printable Weekly Planner
This planning tool will help you to plan and prioritize how you spend and invest your 168 hours of weekly time. You can either create and print a blank planner or a customized planner complete with 6 color-coded, customizable time blocks, along with weekly and daily notes and goals. The creator even has a built-in category time calculator so you can see how much of your time is planned for each category. The Tip tab includes:
What is the 80 20 Rule?
How to use the 80 20 Rule to maximize the ROI on your time.
Learn More
Selected Data Record:
A Data Record is a set of calculator entries that are stored in your web browser's Local Storage. If a Data Record is currently selected in the "Data" tab, this line will list the name you gave to that data record. If no data record is selected, or you have no entries stored for this calculator, the line will display "None".
Data

Data record

Data record

Selected data record

:

None