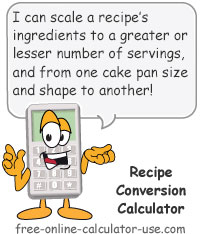 Recipe Conversion Calculator
This online recipe scaler will adjust a recipe's ingredients to accommodate a greater or lesser number of servings, or to scale from one baking pan size and shape to another. You can either paste-in the recipe's ingredients all at once, or you can enter each ingredient line-by-line. Includes four methods of setting the conversion factor (number of servings, scale, original pan size to new pan size, or manual entry), plus provides a printer friendly page for printing out the recipe conversions. The printed report includes a column that lists the original quantities, and an optional column showing the metric equivalents. The Tools tab includes a cooking measurement conversion chart and two kitchen unit of measurement converters.
Learn More
Selected Data Record:
A Data Record is a set of calculator entries that are stored in your web browser's Local Storage. If a Data Record is currently selected in the "Data" tab, this line will list the name you gave to that data record. If no data record is selected, or you have no entries stored for this calculator, the line will display "None".
Data

Data record

Data record

Selected data record

:

None