This free online recipe converter will scale a recipe's ingredients from one number of servings to another, or from one baking pan size and shape to another. Whether you need to increase, reduce, double, halve, etc., the recipe scaler on this page will adjust the ingredients in the blink of an eye.
You can either enter the recipe ingredients line by line, or you can paste-in a recipe's ingredient list all at once and have the calculator load it into the form for you. Super cool!
Also, the calculator gives you the following options for entering/calculating the conversion factor (multiplier):
Enter the starting and ending number of servings.
Select from a preset scaling menu (quarter, half, double, etc.).
Set the original and new baking or cake pan sizes.
Manually enter the conversion factor.
Plus, you can choose to include the metric equivalents for each converted ingredient measurement. And for dry measurements, the calculator will even try to match each ingredient with its own unique weight factor (flour, sugar, chocolate chips, etc.).
And finally, unlike other online recipe converters, this converter will provide you with a printer friendly version so you can print out the completed conversion -- which will include a column containing the original unit quantities and a column containing the converted unit quantities.
Calculator Referenced by Chef/Author Kristi Ambrose!
On September 3, 2013, I received the following email from the author of a new cookbook series:
I have seen a lot, and I mean A LOT of cooking conversion sites out there, but this one is by far the best. I am using it in a lot of cookbooks I am writing and will give you full credit on your help! Thanks again for making my life easier. -- Kristi Ambrose
Well, little did I know the first book in her series would be available on Amazon the following month. And sure enough, there it was ... an entire paragraph devoted to referencing the calculator. How cool is that?!
Of course, I felt compelled to return the favor, so, here you go Kristi ...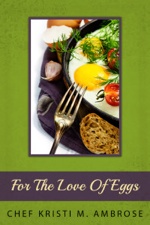 Kristi Ambrose is in the process of creating a very yummy cookbook series, For The Love Of. According to the author, the cookbooks are best viewed in color and you don't even need a Kindle to read them!
Take a free "Look Inside" For the Love of Eggs on Amazon (reference to the calculator is on the first page of text, 3rd paragraph).
Discover
the benefits of subscribing to the
Ad-Free Member Version
of my website.
Learn
how I went from being trapped in a work I hated to being free to work at what I love.