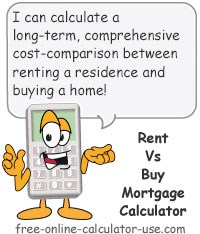 Rent Vs Buy Mortgage Calculator
This calculator will calculate and compare the cost of renting to the cost of buying a home -- including all of the home ownership costs that mortgage brokers and real estate agents hope you will ignore. Includes a printer-friendly rent or buy home report. The $ecret tab includes:
Double your pleasure? Then double your costs!
Don't be an ostrich.
Learn More
Selected Data Record:
A Data Record is a set of calculator entries that are stored in your web browser's Local Storage. If a Data Record is currently selected in the "Data" tab, this line will list the name you gave to that data record. If no data record is selected, or you have no entries stored for this calculator, the line will display "None".
Data

Data record

Data record

Selected data record

:

None