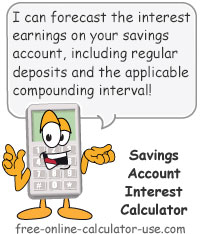 Savings Account Interest Calculator
This calculator will calculate the compound interest earnings on saving accounts given the rate, length of time, initial deposit, periodic deposits, and compounding frequency (including daily compounding). The Learn tab includes:
How a savings account can save you money and worries.
How to offset the low rates paid by regular saving accounts.
Learn More
Selected Data Record:
A Data Record is a set of calculator entries that are stored in your web browser's Local Storage. If a Data Record is currently selected in the "Data" tab, this line will list the name you gave to that data record. If no data record is selected, or you have no entries stored for this calculator, the line will display "None".
Data

Data record

Data record

Selected data record

:

None