Monthly Schedule Creator for Creating Printable Calendar Pages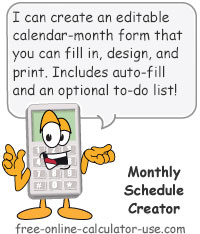 This calendar calculator will create an editable month-schedule template within which you can enter notes (events, activities, appointments, birthdays, etc.) for each day of the selected month.
Also includes a cool auto fill-in feature for entering reoccurring events and activities, an optional to-do list, and various calendar page design preferences.
Finally, once you have entered all of your events and activities and you have chosen your design preferences, you can save your calendar for future use, or open the printable calendar page in a new window for printing.
My wife's employer has used this schedule creator for years, mainly for scheduling workdays and days off for the front-office staff.
Many Cool Uses!
Here are just a few of the many uses for the monthly schedule creator:
Create personal calendar pages to hang on the fridge.
Create a work schedule template for handing out work schedules to employees.
Create a work-out schedule.
Create a meal schedule for an entire month.
Create a blank calendar to fill in later.
Create a blank appointment calendar with designated time slots.
Read more ...