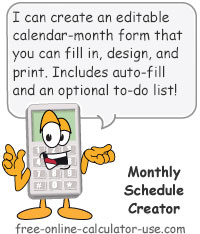 Monthly Schedule Creator
This online calendar calculator will generate an editable calendar page for the desired month and year. You can edit the individual day-of-the-month cells and you can use the auto fill-in feature for adding reoccurring events, activities, appointments, work shifts, etc. Includes an optional to-do list feature for adding a to-do list with check boxes to the calendar page (adds an 8th column). Also includes various design preference settings (dimensions, fonts, colors, etc.).
Learn More
Selected Data Record:
A Data Record is a set of calculator entries that are stored in your web browser's Local Storage. If a Data Record is currently selected in the "Data" tab, this line will list the name you gave to that data record. If no data record is selected, or you have no entries stored for this calculator, the line will display "None".
Data

Data record

Data record

Selected data record

:

None