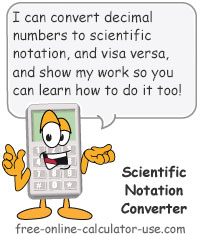 Scientific Notation Converter
This conversion calculator will convert an exponential notation to regular notation, or convert regular notation to exponential (power of 10) notation. Simply enter the number you would like converted and the converter will detect which notation to convert from and to. The Learn tab includes answers to:
What is scientific notation and why is it useful?
How to convert a decimal number to scientific notation?
How to convert scientific notation to a decimal number?
Learn More
Selected Data Record:
A Data Record is a set of calculator entries that are stored in your web browser's Local Storage. If a Data Record is currently selected in the "Data" tab, this line will list the name you gave to that data record. If no data record is selected, or you have no entries stored for this calculator, the line will display "None".
Data

Data record

Data record

Selected data record

:

None