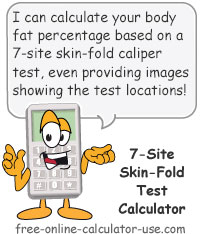 7-Site Skin Fold Test Calculator
This weight-loss calculator can be used to quickly calculate your body fat percentage when using a skinfold caliper to perform a 7-site skin fold test. The pop-up tips include directions and images showing how and where the skin fold tests are taking from -- for both males and females. The Learn tab includes:
7-site skinfold testing formulas for both genders.
Body fat percentage categories chart.
Learn More
Selected Data Record:
A Data Record is a set of calculator entries that are stored in your web browser's Local Storage. If a Data Record is currently selected in the "Data" tab, this line will list the name you gave to that data record. If no data record is selected, or you have no entries stored for this calculator, the line will display "None".
Data

Data record

Data record

Selected data record

:

None