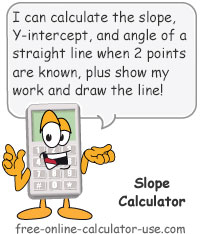 Slope Calculator
This calculator will find the slope, y-intercept, and angle of a straight line from two entered points. Plus, the calculator will also find the distance between the two points, and formulate the line equation from the points and slope. The calculator will also attempt to plot the two points on a graph and draw the line that runs through them. The Learn tab includes:
How to calculate slope from two points.
How to formulate a line's equation.
Learn More
Selected Data Record:
A Data Record is a set of calculator entries that are stored in your web browser's Local Storage. If a Data Record is currently selected in the "Data" tab, this line will list the name you gave to that data record. If no data record is selected, or you have no entries stored for this calculator, the line will display "None".
Data

Data record

Data record

Selected data record

:

None