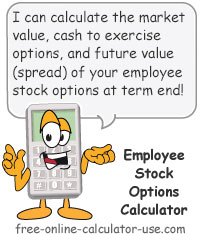 Employee Stock Options Calculator
This calculator will calculate the future value of employees stock options (ESO) based on the current market value, strike price, and anticipated growth rate of the underlying stock shares. Results include a year-to-year growth rate comparisons chart. The Learn tab includes brief answers to:
What are Employee Stock Options?
What does exercising options mean?
Important points to consider.
Learn More
Selected Data Record:
A Data Record is a set of calculator entries that are stored in your web browser's Local Storage. If a Data Record is currently selected in the "Data" tab, this line will list the name you gave to that data record. If no data record is selected, or you have no entries stored for this calculator, the line will display "None".
Data

Data record

Data record

Selected data record

:

None