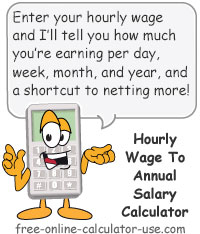 Hourly to Annual Salary Calculator
This calculator will translate your hourly pay into its yearly, monthly, biweekly, weekly and daily equivalents. Plus, the Chart section includes a lookup chart so you can quickly see the yearly pay for each hourly wage from $1 per hour to $50 per hour, all based on 40-hour workweeks.
Learn More
Selected Data Record:
A Data Record is a set of calculator entries that are stored in your web browser's Local Storage. If a Data Record is currently selected in the "Data" tab, this line will list the name you gave to that data record. If no data record is selected, or you have no entries stored for this calculator, the line will display "None".
Data

Data record

Data record

Selected data record

:

None