BMR Calculator, or Basal Metabolic Rate Calculation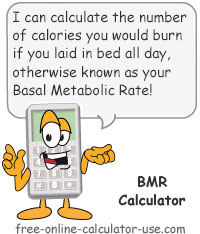 This BMR and TDEE calculator will help you to calculate the total calories you would expend if you spent all day resting and doing nothing, which is also referred to as your "metabolism."
Plus, the calculator will use your calculated BMR to estimate your Total Daily Energy Expenditure (TDEE) for each of 5 different activity levels.
Finally, the calculator will also display a chart and graph showing your estimated BMR at each age over the next 20 years.
As you get older, your metabolism tends to slow down, making it increasingly difficult to maintain and lose weight.
Calculating your Basal Metabolic Rate at each age will help keep you abreast of where your activity level needs to be in order to lose or maintain weight (see Weight Calorie Tool for calculating caloric adjustments needed to achieve weight goals).
Read more ...