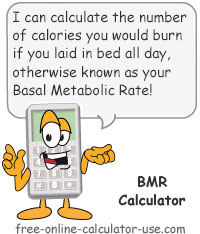 Basal Metabolic Rate Calculator
This calculator will calculate your Basal Metabolic Rate (metabolism) for male or female and using either standard or metric measurements. The calculated results also includes your estimated daily calories burned for each of 5 separate activity levels, and a chart and graph showing how your BMR (also known as "RMR") will change each year over the course of the next 20 years.
Learn More
Selected Data Record:
A Data Record is a set of calculator entries that are stored in your web browser's Local Storage. If a Data Record is currently selected in the "Data" tab, this line will list the name you gave to that data record. If no data record is selected, or you have no entries stored for this calculator, the line will display "None".
Data

Data record

Data record

Selected data record

:

None