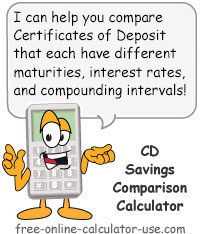 CD Savings Comparison Calculator
This calculator will calculate and compare the interest earnings and annual percentage yield on up to 4 different certificates of deposit having different rates, maturities, and/or compounding intervals. Results include a comparison chart and bar graph, along with a printer friendly report. The Learn tab includes:
When should you consider CD investing?
What investment advisors want you to believe.
Who should you listen to for investment advice?
Learn More
Selected Data Record:
A Data Record is a set of calculator entries that are stored in your web browser's Local Storage. If a Data Record is currently selected in the "Data" tab, this line will list the name you gave to that data record. If no data record is selected, or you have no entries stored for this calculator, the line will display "None".
Data

Data record

Data record

Selected data record

:

None