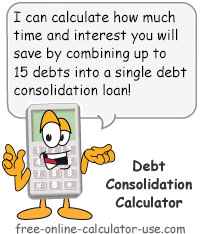 Consolidate Debt Calculator
This calculator will calculate the net effects of paying off all of your debts by taking out a debt consolidation loan. Contrary to what lenders may tell you, just because your monthly payment might be smaller, does NOT mean you will actually save money. Results include a side-by-side comparison of the payment amount, number of months, and interest cost -- with and without consolidating. The Aware tab includes the lesser known cons of consolidating your debts.
Learn More
Selected Data Record:
A Data Record is a set of calculator entries that are stored in your web browser's Local Storage. If a Data Record is currently selected in the "Data" tab, this line will list the name you gave to that data record. If no data record is selected, or you have no entries stored for this calculator, the line will display "None".
Data

Data record

Data record

Selected data record

:

None