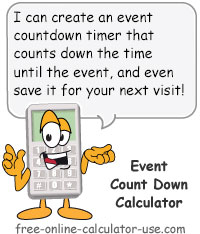 Countdown Calculator
This countdown timer creator will count down the years, months, weeks, days, hours, minutes, and seconds until the date and time of a special occasion (anniversary, birthday, due date, graduation, retirement, wedding, etc.). Plus, you can even save the event so the timer will automatically update on your next visit!
Learn More
Selected Data Record:
A Data Record is a set of calculator entries that are stored in your web browser's Local Storage. If a Data Record is currently selected in the "Data" tab, this line will list the name you gave to that data record. If no data record is selected, or you have no entries stored for this calculator, the line will display "None".
Data

Data record

Data record

Selected data record

:

None