Countdown Calculator to Create an Online Timer for a Future Event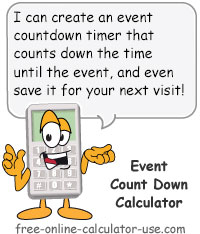 Enter the date and time of a future event, and the countdown creator will generate a timer that will begin counting down to the event's date and time.
And not only will the calculator count down the time in years, months, weeks, days, hours, minutes, and seconds, but it will also give the total time stated in each of those time units.
Plus, you can save multiple countdown events under the Data tab, and each will continue counting down as you select them on your next visit.
The countdown clock timer is perfect for counting down to an anniversary, a birthday, Christmas, a due date, a graduation day, an opening day, your retirement, your wedding day, and more!
Note that if you would like to create a timer that counts up from a past date and time, please use the Count Up Timer.
Read more ...