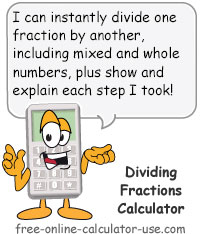 Dividing Fractions Calculator
This calculator will divide any combination of a fraction, a whole number, or a mixed number, and then simplify the resulting fraction. Plus, the fraction division calculator will show its work and give a step-by-step summary of how it arrived at the quotient. The Learn tab includes:
How to divide fractions.
Dividing fractions and mixed numbers.
Dividing fractions by whole numbers.
Learn More
Selected Data Record:
A Data Record is a set of calculator entries that are stored in your web browser's Local Storage. If a Data Record is currently selected in the "Data" tab, this line will list the name you gave to that data record. If no data record is selected, or you have no entries stored for this calculator, the line will display "None".
Data

Data record

Data record

Selected data record

:

None