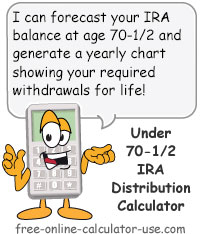 IRA Growth and Distribution Calculator
This calculator is for IRA owners under the age of 70-1/2. The calculator will create a year-to-year chart showing the future growth based on your expected rate of return. Then, once the chart reaches age 70-1/2 all rows thereafter will show the combined effects of interest earnings and minimum distributions. The Learn tab includes answers to:
When do withdrawals start?
What is the RMD formula?
What time of the year are distributions due?
Learn More
Selected Data Record:
A Data Record is a set of calculator entries that are stored in your web browser's Local Storage. If a Data Record is currently selected in the "Data" tab, this line will list the name you gave to that data record. If no data record is selected, or you have no entries stored for this calculator, the line will display "None".
Data

Data record

Data record

Selected data record

:

None