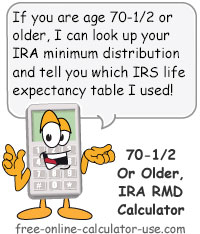 IRA Required Minimum Distribution Calculator
This calculator will estimate the required minimum distribution factor and the amount for the current distribution year (IRA owners age 70 and older). Plus, the calculator will even tell you which IRS Life Expectancy Table it used. The Learn tab includes answers to:
When do distributions start?
What is the RMD formula?
What time of the year are distributions due?
Learn More
Selected Data Record:
A Data Record is a set of calculator entries that are stored in your web browser's Local Storage. If a Data Record is currently selected in the "Data" tab, this line will list the name you gave to that data record. If no data record is selected, or you have no entries stored for this calculator, the line will display "None".
Data

Data record

Data record

Selected data record

:

None