Life Expectancy Quiz to Estimate Lifetime and Retirement Years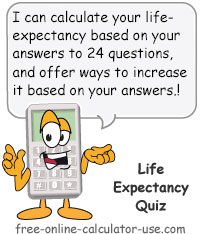 This online life expectancy quiz will calculate a rough estimate of how long you will live based on your age, gender, and your answers to the 23 test questions.
The quiz results also include:
The number of years remaining in your life expectancy.
The estimated number of years you will spend in retirement.
The calendar year of the end of your estimated life expectancy.
A bullet list of changes you can make to increase your life expectancy.
Your Lifetime Usage Meter.
Note that the quiz is based on questions once listed on the Minnesota State Retirement System website, which at the time reported that while there is no way to forecast life expectancy accurately, the "test provides a life insurance company's statistical view of your life expectancy."
Also, you may want to compare the results on this page with the IRS estimate of your life expectancy.
Finally, the quiz assumes you are between the ages of 25 and 65 and are in relatively good health.
Read more ...