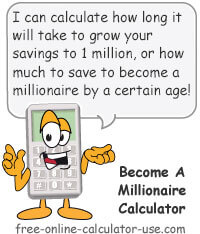 Millionaire Calculator
This calculator will calculate the amount of time it will take to save up 1 million dollars. This includes your age and the month and year you will reach your goal. The Think tab includes:
Is becoming a millionaire easy?
Will the sacrifices be worth it?
Chasing emotional versus monetary wealth.
4 steps to pursuing emotional wealth.
Feedback Appreciated
Feedback Greatly Appreciated
Your Feedback Would Be Greatly Appreciated
Your Feedback Is Greatly Appreciated