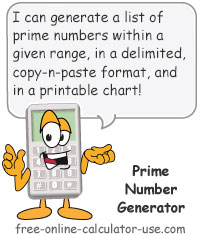 Prime Number List Generator
This calculator will create a custom prime numbers list of up to 10,000 primes, with primes ranging from 2 to 104,730. For example, you could either create a delimited list containing the first 100 prime numbers, or a list of the primes that occur between 100 and 500. Plus, you can also tell the generator to format the list into a custom prime numbers chart for printing.
Learn More
Selected Data Record:
A Data Record is a set of calculator entries that are stored in your web browser's Local Storage. If a Data Record is currently selected in the "Data" tab, this line will list the name you gave to that data record. If no data record is selected, or you have no entries stored for this calculator, the line will display "None".
Data

Data record

Data record

Selected data record

:

None