Prime Number Generator to Create List of Prime Numbers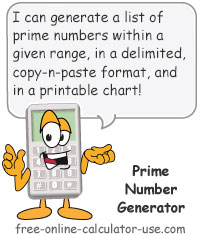 This calculator will allow you to build a set of primes based on your selections and display it in a delimited format of your choice, for copying and pasting and/or importing into other document types (word processing, spreadsheet, etc.).
You can create a set of primes for as high the first 10,000 primes, or a set between any number and 104,730 (to check to see if a number greater than 104,730 is prime, please visit the prime number checker).
For example, you could create a list containing the first 100 prime numbers, or you would create a list of primes between 1 and 100 (25 primes).
Finally, the prime number generator even gives you the option to create a printer-friendly prime numbers chart containing your custom list.
Read more ...