Remaining Balance Calculator to Calculate Loan Payoff Amount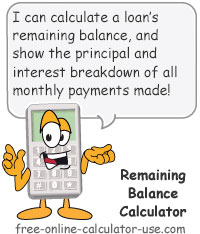 This calculator will calculate the number of payments made and the amount you still owe on a loan -- based on the month and year of your first monthly payment.
Plus, the calculator also includes an option for displaying and printing a schedule of payments made, which includes the principal and interest breakdown for each payment.
Please note that this calculator is designed to handle loans with fixed monthly payments that are paid on time and without having skipped any payments. If you have skipped any payments or made payments in varying amounts, please use the Lender Loan Balance Calculator.
Read more ...