WOT Semi-Monthly Timesheet Calculator For Up To 5 Different Pay Rates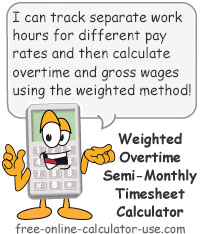 If your company falls under FSLA's personal care and respite services category, and you are required to pay overtime based on the weighted average method, this calculator has you covered.
Specifically, if you or your employees are paid different rates for different jobs, this calculator allows you to assign each rate to a number, and then assign each In/Out time block to the applicable number.
The calculator will then total up the hours and wages for each rate of pay, plus calculate the total regular wages for the pay period.
The calculator then finds the weighted average hourly pay from the various rates entered and then divides that number in half to arrive at the hourly overtime rate.
Next, if the number of hours worked exceeds the overtime threshold, the calculator multiplies the overtime-eligible hours by the hourly overtime rate to come up with the amount of overtime pay to add to the regular wages.
Note that if you pay on a semi-monthly basis, but you use one of the traditional overtime methods, please visit the normal semi-monthly timesheet calculator.
Read more ...