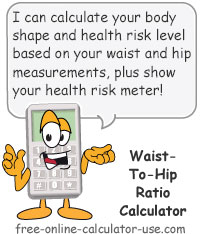 Waist to Hip Ratio Calculator
This calculator will calculate your waist to hip ratio (WHR) and your body type, and then chart your health risk based on whether or not your body is determined to be pear or apple shaped. The Learn tab includes:
What is waist hip ratio and why is it used?
How to calculate WHR and body type.
Pear shaped versus apple shaped.
Learn More
Selected Data Record:
A Data Record is a set of calculator entries that are stored in your web browser's Local Storage. If a Data Record is currently selected in the "Data" tab, this line will list the name you gave to that data record. If no data record is selected, or you have no entries stored for this calculator, the line will display "None".
Data

Data record

Data record

Selected data record

:

None