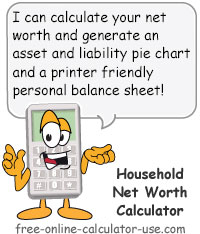 Household Net Worth Calculator
This calculator will help you to create a statement of net worth, which is one of two essential personal finance statements for measuring your financial progress. Includes an optional column for entering data from a past net worth statement for comparison purposes, as well as a pie chart and a printer friendly balance sheet. The Learn tab includes:
What is net worth?
Why is calculating net worth important?
How often should you calculate net worth?
Learn More
Selected Data Record:
A Data Record is a set of calculator entries that are stored in your web browser's Local Storage. If a Data Record is currently selected in the "Data" tab, this line will list the name you gave to that data record. If no data record is selected, or you have no entries stored for this calculator, the line will display "None".
Data

Data record

Data record

Selected data record

:

None