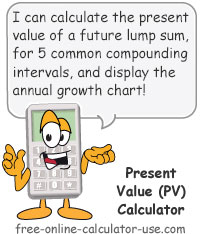 Present Value Calculator
This calculator will calculate the present value of a future lump sum of money given the discount rate, the discounting interval, and the number of months or years. Includes a printable, year-to-year interest earnings and growth chart. The Learn tab includes:
What is Present Value?
What are PV calculations useful for?
Learn More
Selected Data Record:
A Data Record is a set of calculator entries that are stored in your web browser's Local Storage. If a Data Record is currently selected in the "Data" tab, this line will list the name you gave to that data record. If no data record is selected, or you have no entries stored for this calculator, the line will display "None".
Data

Data record

Data record

Selected data record

:

None