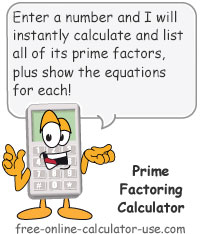 Prime Factoring Calculator
This calculator will quickly generate a list of prime (natural) numbers that are factors of a given number, plus simplify the primes into an exponential expression, and show its work so you can verify the result. The Learn tab includes:
What are Prime Numbers?
How to manually find prime factors of a number.
Learn More
Selected Data Record:
A Data Record is a set of calculator entries that are stored in your web browser's Local Storage. If a Data Record is currently selected in the "Data" tab, this line will list the name you gave to that data record. If no data record is selected, or you have no entries stored for this calculator, the line will display "None".
Data

Data record

Data record

Selected data record

:

None