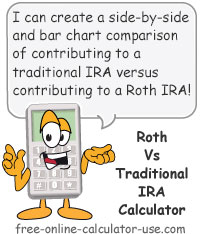 Roth vs Traditional IRA Calculator
This calculator will calculate the long-term, net effects of making annual contributions to a Traditional IRA versus contributing to a Roth IRA. Results include a side-by-side comparison chart and graph, as well as button for creating printer friendly report. The Learn tab includes:
What is a traditional IRA?
What is a Roth IRA?
What purposes are served by a Roth IRA?
Learn More
Selected Data Record:
A Data Record is a set of calculator entries that are stored in your web browser's Local Storage. If a Data Record is currently selected in the "Data" tab, this line will list the name you gave to that data record. If no data record is selected, or you have no entries stored for this calculator, the line will display "None".
Data

Data record

Data record

Selected data record

:

None