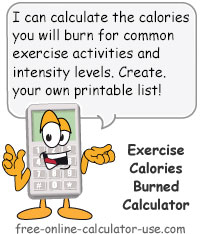 Exercise Calorie Burn Calculator
This calculator will calculate the calories burned while performing any or all of nearly 90 different fat-burning activities, all based on your weight (pounds or kilograms) and on the amount of time spent exercising. Includes a customizable, printer friendly KCal chart that you can print out and refer to when you don't have access to the internet.
Learn More
Selected Data Record:
A Data Record is a set of calculator entries that are stored in your web browser's Local Storage. If a Data Record is currently selected in the "Data" tab, this line will list the name you gave to that data record. If no data record is selected, or you have no entries stored for this calculator, the line will display "None".
Data

Data record

Data record

Selected data record

:

None