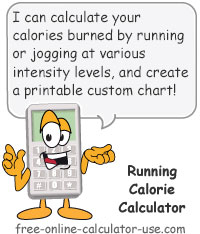 Running Calorie Calculator
This calculator will calculate the number of calories expended while jogging or running for various durations and at 22 different intensity levels. Weights and distances can be entered in standard or metric, and you can print out a custom, calculated calorie chart for any or all of the intensity levels. The Alt tab includes an alternate calculator that calculates calories burned based on weight and distance.
Learn More
Selected Data Record:
A Data Record is a set of calculator entries that are stored in your web browser's Local Storage. If a Data Record is currently selected in the "Data" tab, this line will list the name you gave to that data record. If no data record is selected, or you have no entries stored for this calculator, the line will display "None".
Data

Data record

Data record

Selected data record

:

None