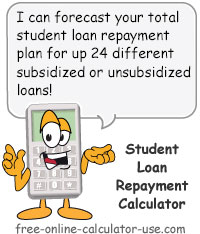 Student Loan Repayment Calculator
This calculator will help you to forecast the financial consequences of all of your combined educational borrowing. It will accept loan entries for up to 24 different student loans (up to 4 loans per year for up to 6 years), and will accommodate all types of loans: Subsidized, Unsubsidized, PLUS, and Private. The calculator also allows you to defer payments, capitalize interest, and make more than the minimum payments. Also includes a printer friendly report (combined or separate). The Learn tab includes:
Overcoming Student Loan Complexities.
Subsidized Vs. Unsubsidized Loans.
Simplified Types of Student Loans.
Learn More
Selected Data Record:
A Data Record is a set of calculator entries that are stored in your web browser's Local Storage. If a Data Record is currently selected in the "Data" tab, this line will list the name you gave to that data record. If no data record is selected, or you have no entries stored for this calculator, the line will display "None".
Data

Data record

Data record

Selected data record

:

None