Biweekly Time Card Calculator with Up to Two Unpaid Breaks Per Day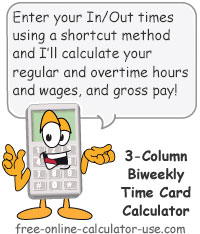 This free online bi-weekly time car calculator with two unpaid breaks and overtime will add up your or your employee's time clock hours for the two weeks and calculate your gross wages.
Here are the features that make this biweekly timecard calculator so quick and easy:
No need for non-numeric characters (for 10:20 just enter 1020, or for 1:00 just enter 1) or AM/PM (use military time for shifts exceeding 12 hours).
Converts minutes into 100ths of hours decimal for you.
Calculates gross wages -- including overtime based on your choice of 8 or 10 hours per day, 40, 44, or 48 hours per week, 80 hours for 2 weeks, or a built-in California overtime calculator.
Formats output into printable hours and gross wages report (use the print to PDF option on your printer to attach the report to an email).
Allows you to correct mistakes without starting over, and no Back buttons or waiting for a results page.
Use the Data Save feature to save your punch card entries to your web browser for yourself or for separate employees in between uses.
The bi-weekly timesheet calculator is also available with one unpaid break, and you can print out a blank, free biweekly timesheet template for whichever version you use. Timesheet calculators are also available for Weekly, Semi-Monthly, and Monthly payroll periods.
Read more ...